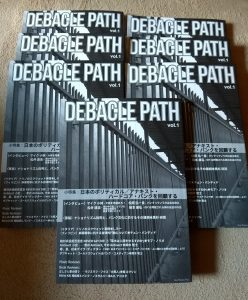 印刷から上がってきまして、ようやく発売となりました。
直販はサイトのメニューの「Shop」からか、もしくはContactから直接連絡いただいても大丈夫です。
ディストロ用の卸価格も設定してますので、ディストロしたい!という方からのご連絡もお待ちしています!
Debacle Path vol.1 is finally on sale now!
For orders from outside of Japan, please contact us from "contact" in the menu. You can use our shop page but it doesn't really translate things in the shopping cart well…
If you want to distro this zine, get in touch!