[Philippines] "Stories behind the Autonomous Initiatives against War on Drugs"
By: Chung Bandido
In early 2016, the hype on presidential election was inevitable. Different parties, political personalities and celebrity are like gamblers playing for the seats in the government position. They put millions of pesos for political advertisement, to bribe communities, finding allies, playing that they care, buy air-time on media outlets and so on. Every day from January to May 2016 the news and stories are about election and politicians, most of the people are excited specially the ones who are working with the politician during his/her campaign and also for the people who will have a chance to work temporarily on election dates. The presidential race at that time composed of famous political clan and members of an oligarch families who also benefits in political dynasty like the Binay, the Roxas, and Duterte. The stunning one here and get a lot of support is Duterte from PDP-Laban Party and coming from the south Davao City Mindanao. A long-time mayor serving seven terms for the total of 22 years governing the fourth largest cities in the Philippines, the Davao City. The May 2016 election was a chance for the people from the south to be represented in the national political arena and through election 16 million voters favorably give way to Duterte regime. A man known to have a Davao Death Squad who made systematic practice of extrajudicial killings of drug users and other criminals committing petty crime from 1998 to 2016. Despite of this, millions of people supported him echoing the regional pride of being Bisaya that we're before experienced different way of discrimination and miss-representation. I believe that this is one of the main factor why Duterte won, he got the sentiment of the marginalized region in the Philippines. Maybe this is also the reason why the mainstream authoritarian-left supported him in his campaign and somehow compromise themselves to be part of his government.
On our part as autonomous dissidents, we already talking and discussing that Duterte's success in political power will give way for nationwide bloodbath as he firstly focus his work on War on Drugs. We see that if he can make this killings in Davao City without accountability he can continue this extrajudicial practices, normalizing deaths on the street, creating social paranoia and state of fear. So, as early as July 2016 after Duterte formally proclaimed as a president we already criticizing this War on Drugs, there is a statement and poster said "Extra-Judicial Killings and Summary Execution are instigated by the State and Rich Organized Crime". September 4, 2016 Food not Bombs action happened in Baliuag, Bulacan to share free meal and campaign our sentiment against the summary execution numbering 2000 casualties at that time. A collaborative-zine making was introduce by a friend and carry on the coordination for inviting contributor for the collection of creative art/writings that are related to an on-going campaign of the Duterte administration against drugs. While this zine are in the work on progress we continue meeting people, collaborators, campaigners, artist, human rights advocates and evangelicals to plan more grassroots organizing to denounce this killings /and on October 29, 2016 we come up with an idea to have a series of events in the theme of Biag, Buhay, Ikabuhi "Value of Life, Denouncing Killings", Biag in Ilocano dialect, Ikabuhi in Bisaya and Buhay in Tagalog that all means Life. Autonomous individuals, cause-oriented groups and local networks shared their thoughts about the on-going war on drugs and affirmed the life force through poetry, music, performances and talks. Friends from Peace Church and volunteers from different info shops initiated an event at Project 20 Maginhawa to launch Manlaban zine, a do-it-yourself publication which features critical content and writings on drug-related and extra-judicial killings. It was an expression of sentiments, info sharing, narration, perspective and idea of resistance. Such is the core of Manlaban: amidst the hate, stigma and violence,/ the freedom to express, to think for one's self, and criticality to resist all forms of violence, authority and hierarchy.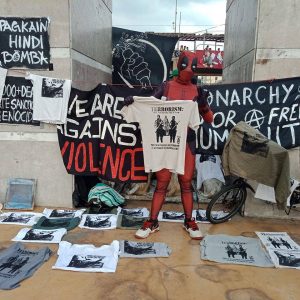 In addition, there were simultaneous happenings in support of the cause like free t-shirt printing, pot luck, film screening, really really free market. The said creative resistance and direct action was a manifestation of the long tradition of sharing culture based on horizontal organizing, anti-authoritarian alternative and non-hierarchical politics.
The organizing continue, the first zine Manlaban distributed voluntarily and on April 2017 we managed to organize again the Biag, Buhay, Ikabuhi 2.0 event in the church property in Tondo, Manila. As expected, we invite our networks, friends and families. It's a whole day event that had different activities like performances, exhibition, and free market and at this time we also invite resource speakers who runs community-support rehab, government-run rehabilitation and psychologist to tell their stories about their effort, analysis and statements about the continues War on drugs.
We come up with an analysis that drug problem is not a crime to be solve instead we need to view that drug problem is a health and mental issue that needed support than punishment or killings. At this event, the second collaborative-zine was release entitled "Biag, Buhay, Ikabuhi", a compilation of news report, solidarity action, article, poetry, drawings etc. We are hoping in the future to release a documentary film project related to this War on drugs.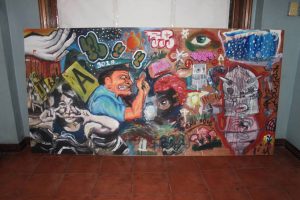 September 21, 2017 a street action organized, remembering this day Sept.21, one of the horrific and tragic moment happened in the history of the Philippines. Martial Law was declared by President Marcos to suppress and repress most of the people. Rampant violence, forced disappearance, arrest, killings and torture experienced by dissidents and common people who are criticizing the authoritarian regime at that time.
Today, Duterte's administration was also following the path for being a totalitarian and a fascist by putting people's lives on his own hands defying constitutional and human rights. Declaring Martial Law in Mindanao and instigating War on Drugs policy by killings thousands of poor people. This regime are misleading the people by their fake news by putting their effort on drug related issue to stop criminality and not confronting the real problem of the society, that social injustice like poverty, no job opportunity, no social welfare, forced displacement are the main cause and this injustices are already violence.
As our attempt to express our sentiments against this atrocity. We planned to gather in Luneta Park to have a picnic, Food Not Bombs mass feeding, Really Free Market, mobile library, culture jamming, Radyo Kalye and many more. More than 40 participants show their support engaging ourselves with the homeless community who sleep and stay in the park. Homelessness are one of the awful problem happening in the Philippines and no government since before could make a solution.
October 2018, a night of devastating art of noise and protest against humanitarian crisis. In solidarity to all the victims of State atrocities. This event organized in Quezon City and Bulacan area all are connected to the incident happened to the four Food Not Bombs volunteers who got killed because of this war on drugs and another one volunteer incarcerated, aside from this event there are other people organized soli-concert for the benefit of the murdered comrade. And in November 2018 we launch a street protest again, this time in Welcome Rotunda, Quezon City. Our message is clear:
"In Solidarity To all the Victims of State Atrocities. War on Drugs is War on Poor."
This killing was only targeting the poor communities, even there is a children who will be caught on fire with their bullets it's just a collateral damage. The most number of population are still have sympathy but we feel that the support for Duterte are getting lesser because for almost three years that his in powers, the Philippine economy drastically drowning.
The fight will continue.
*For more information on their actions:
Etniko Bandido Infoshop facebook | Website